Return to office a big factor, along with salaries, promotions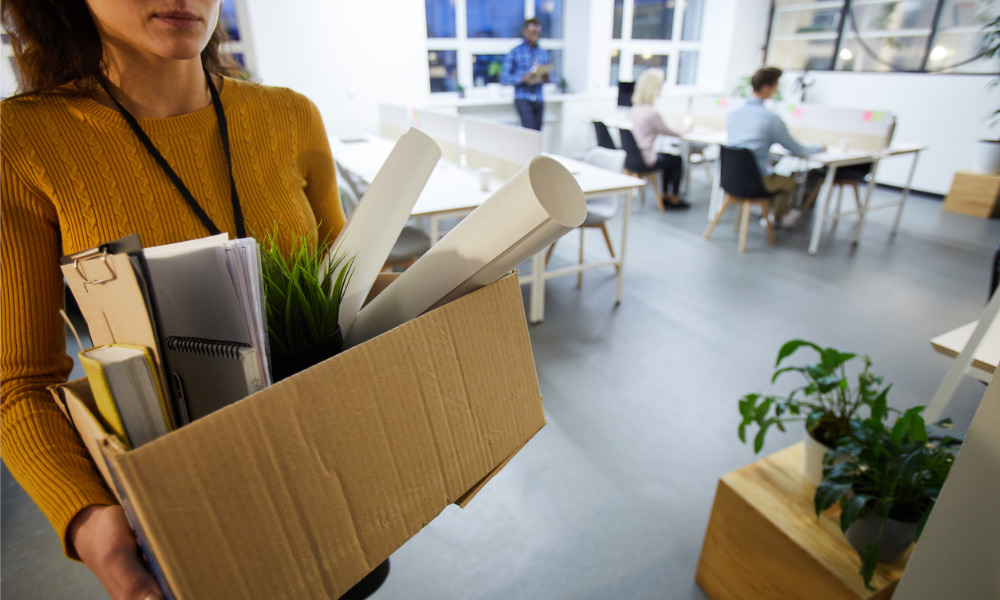 Staff turnover will continue to trouble Canadian employers, with the "return to the office" a major factor, judging by two new surveys.
Nearly one-third (31 per cent) of respondents said they are currently looking or plan to look for a new role in the second half of 2022, up from 28 per cent six months ago, finds Robert Half.
Why? The main reasons are:
a salary boost (58 per cent)
greater opportunities for advancement (37 per cent)
the ability to work remotely permanently (33 per cent)
More than half of workers considering a change plan to pursue hybrid (56 per cent) or fully remote (51 per cent) positions. And 42 per cent are open to searching outside their city.
Those most likely to pursue new opportunities in the next six months are 18- to 40-year-olds (46 per cent) and employees who have been with their company for five to nine years (42 per cent), finds the survey of more than 500 workers in Canada, compared to:
31 per cent of those ages 41 to 54
23 per cent of those 55+
35 per cent of those who have been with their company two to four years
25 per cent of those who have been with their company 10+ years
"Companies in Canada continue to face a scarcity of skilled talent," says David King, Canadian senior managing director of Robert Half. "Attracting and hiring candidates is top of mind for many organizations right now as workers explore new job opportunities that offer higher compensation, better perks and benefits, and remote work options."
"Managers are also taking more measures to help keep valued employees onboard, including benchmarking salaries and making adjustments if appropriate, offering schedule flexibility, prioritizing advancement opportunities and implementing meaningful employee recognition programs," he says.
For employers that expected to have labour-related obstacles (shortage of labour force, recruiting skilled employees or retaining skilled employees) over the next three months, over half (54.6 per cent) expected these obstacles to lead to management working increased hours, while nearly half (47.3 per cent) expected existing staff to work increased hours as a result, finds a separate survey.
Do I have to go back?
Two in five (41 per cent) of remote workers in Canada say they're concerned their employer will ask them to return to the office full-time, according to a survey by IWG.
A further 45 per cent said they would consider changing jobs if asked to return to the office five days per week.
Hybrid work is an important factor when looking for a new job, according to 81 per cent of respondents, alongside financial benefits such as higher pension contributions (90 per cent), bonuses/profit sharing (85 per cent), and unlimited vacation/holiday allowances (76 per cent).
"With a buoyant job market after a challenging couple of years, workers are demanding more of their employers and their roles. Gone are the days when salary was the only factor when considering a job offer, and nothing better demonstrates this than the rise of hybrid working," says Wayne Berger, CEO of Americas, IWG
"Daily commuting is expensive and unnecessary, and it's clear to see that Canadian employees are taking back control of this time. Employers who don't offer hybrid working are going to miss out on the best talent. Not only do employees benefit from dramatically improved work-life balance, but by switching to a hybrid model, businesses can expect to save an average of more than $13,000 per employee — all while minimizing their carbon footprint."
Read more: Wells Fargo recently decided to pause a hiring policy that may have led to fake job interviews to boost diversity credentials.
What are the most important professional and personal benefits of hybrid working?
work/life balance (84 per cent)
mental health (80 per cent)
more time for hobbies and to see friends (76 per cent)
better job performance (74 per cent)
The survey of 1,012 Canadian workers was conducted between April 29 and May 2, 2022.