Many fear productivity has been negatively impacted by shift to remote work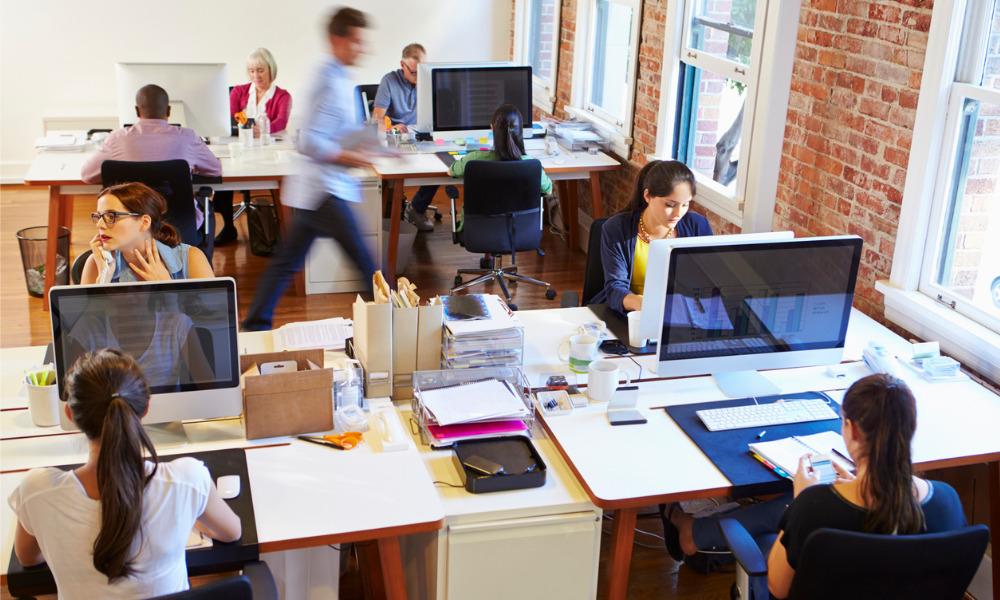 Nearly half (44 per cent) of Canadian business leaders expect their companies to require full-time, in-person work in the year ahead.
That compares to 50 per cent of leaders globally, according to a survey by Microsoft.
Why? To start, 46 per cent of Canadian leaders fear productivity has been negatively impacted since the shift to remote work, even though 80 per cent of employees saying they are just as or more productive.
However, a separate survey found that more than eight in 10 (84 per cent) Canadian employers would consider some sort of permanent work-from-home policy.
Hybrid work challenges
Nearly one-third (31 per cent) of Canadian hybrid employees say their biggest challenge is knowing when and why to come into the office, finds the Microsoft survey of more than 31,000 employees in 31 countries in January and February.
Maybe that's because only 20 per cent of leaders have created new team agreements for hybrid work.
Just 12 per cent of workers say that working entirely at their physical workplace is their ideal working scenario moving forward, while 43 per cent are likely to look for a new job if their employer mandates a return to the office full time, according to a separate survey.
Turnover concerns
In 2020, 17 per cent of people left their jobs (15 per cent in Canada), followed by 18 per cent in 2021, finds Microsoft.
The top five reasons employees quit were: personal wellbeing or mental health (24 per cent), work-life balance (24 per cent), risk of getting COVID-19 (21 per cent), lack of confidence in senior management/leadership (21 per cent), and lack of flexible work hours or location (21 per cent).
"The data shows the 'great reshuffle' is far from over. Employees everywhere are rethinking their 'worth it' equation and are voting with their feet. And as more people experience the upsides of flexible work, the more heavily it factors into the equation. For gen Z and millennials, there's no going back. And with other generations not far behind, companies must meet employees where they are," says Great Expectations: Making Hybrid Work Work
More than one-third (37 per cent) of Canadian employees are somewhat or extremely likely to consider changing jobs in the coming year, up slightly year-over-year from 35 per cent.
Some generations are even more likely to consider changing employers globally — more than half (52 per cent) of gen Z and millennials combined may change jobs in the year ahead, up three percentage points since last year. In comparison, only 35 per cent of gen X and boomers say they're considering a job change.
What helps with retention?
In the Microsoft study, 47 per cent of respondents say they are more likely to put family and personal life over work than they were before the pandemic. In addition, 53 per cent — particularly parents (55 per cent) and women (56 per cent) — say they're more likely to prioritize their health and wellbeing over work than before.
Beyond pay, the top five aspects of work that employees view as "very important" for an employer to provide are: positive culture (46 per cent), mental health/wellbeing benefits (42 per cent), a sense of purpose/meaning (40 per cent), flexible work hours (38 per cent), and more than the standard two weeks of paid vacation time each year (36 per cent).
"Giving people agency to do their best work is not only in their best interest — it's good for business. To make hybrid work work, leaders need to empower managers to be the culture keepers, rethink the role of the office, rebuild social capital for a digital-first workforce, and create new practices for sustainable flexible work. Technology plays a key role, but this moment calls for a new mindset. As the world continues to evolve, organizations that take a culture-first, learn-it-all approach will come out ahead," says the Microsoft report.
Which group of workers is more inclined to quit their jobs? IT, according to a global survey by Gartner: This group has a 10.2-per-cent lower intent to stay than non-IT employees — the lowest out of all corporate functions.