Zoe Nutten, CPO of WSP Canada, talks about the importance of change 'with input and reflection'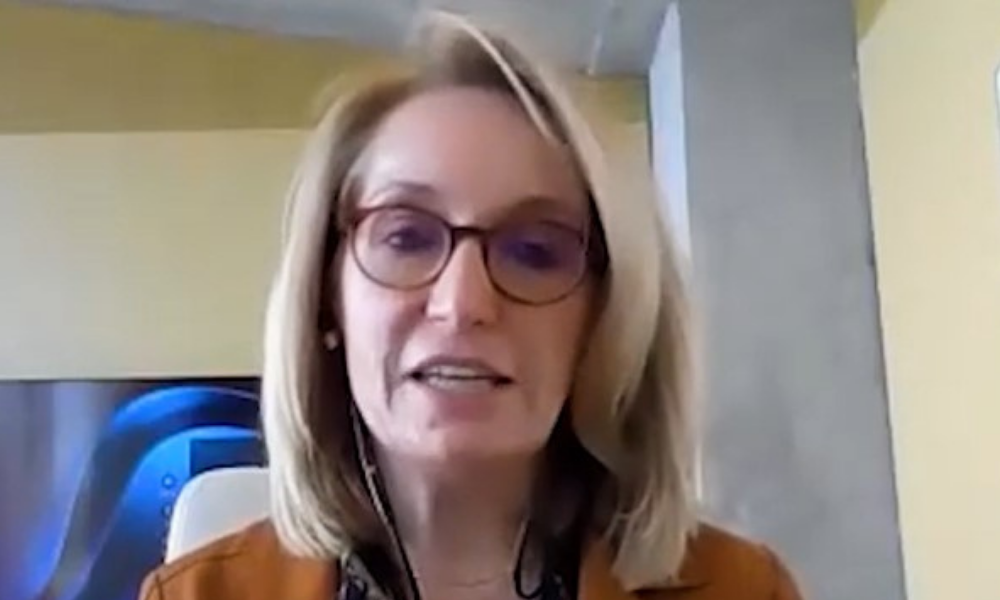 Not having come from a traditional HR background, Zoe Nutten has focused much more on strategy and operations over the years.
But the common factor has always been about people, she says.
"People drive the strategy, strategy drives the business… dollars don't make the business, it's the people that make the business. So that's been the one common component for me in all the work I've done."
Based in Toronto, Nutten has been the chief people officer at the global engineering and professional services firm WSP Canada for four years. The Canadian firm has roughly 68,000 employees worldwide, with annual revenue of nearly $12 billion.
But the CPO's illustrious career has also included leadership roles at other big brands such as Barrick Gold Corporation, BMO Financial Group and Bell.
'Progress versus perfection' with change
Describing herself as "industry-agnostic," Nutten says each time she takes on a new position, she has be careful that she doesn't try to transplant too much of what she knew from previous roles.
At WSP Canada's, for example, there's a strong entrepreneurial spirit.
"When you have an entrepreneurial spirit, very purpose-driven, the last thing you want to do is bring in heavy processes or thought processes that don't fit the culture. So my challenge is, because I've come and worked in many different industries, it's [being] really responsive and respectful of understanding what it is that makes the entity that I'm now working at different because I haven't had the privilege of growing up in my career in that," she says.
"When you are bringing new ideas forward and you're challenging different perspectives, you want to make sure that it's being seen as a value-add and not just because it's different and new — but it's really 'How does it fit?' And so you start at a different points of how you can have those conversations because your reference point is different than perhaps some of the others that you're speaking with."
One of Nutten's top mottos is "progress versus perfection," which means it's always important to make sure that you're willing, as a change agent, to take different viewpoints, she says, and "that you don't become so committed to an idea that as you get different new challenges or inputs, that you're not willing to adjust and change the direction of where you come. So you end up with a better solution."
"It's not change for the sake of change, but it's change with input and reflection. And so I naturally am comfortable in that environment," says Nutten, who recently sat down for an in-depth interview with Canadian HR Reporter.
Retention before attraction at WSP
When it comes to the challenge of labour shortages, Nutten stresses the importance of focusing on employee retention.
"It's really making sure that we're spending as much time on the employees when they're here and developing their careers, as it is about attracting net new individuals into the company," she says.
"We do fairly well attracting — we have some great conversion ratios, we do great on hiring — but what I am most concerned about is the attrition rate on the back end, because that's the biggest shortage you have is every time you lose somebody, you lose that knowledge that they have of your company and how you work."
To that end, it's important to be clear about WSP's employee value proposition, says Nutten, in truly understanding what employees value in the work they do. That means the firm has focused on attractive offerings such as career development, with rotational programs, and flexible work.
For the latter, Nutten admits they don't yet have all the answers.
"It is still evolving… We're doing certain things well and other things not well. So one of the things that we're trying to do is, first of all, we're not calling it hybrid, we're talking about a flexible workplace strategy, and it is one that will be here in perpetuity for us."
That means WSP Canada won't gradually phase back the days at the office until employees are back there full time, she says.
"As a company, we have decided that we learned things and during COVID, we learned that there are places where doing quiet work, reflective work, it's better in a different environment. And you don't have to be in a workplace environment."
However, more junior professionals benefit from informal mentoring and coaching that's done in-person, so it makes sense for them to be in the office more often, says Nutten.
Plus, different teams at WSP Canada have different "anchor" days to be at the office, especially when it lines up with client needs, she says.
"It's not one size fits all. So it's about the flexibility for the teams to form that contract of 'When do we think that's how we need to be?' — it's not about having rigid hours of 'You must be on FaceTime from nine to five,' because frankly, we know the average work week is expanding and contracting. But it is about putting guardrails about things."
Through it all, Nutten says she is supported by a "phenomenal" team when it comes to areas such as compensation, benefits, talent acquisition, engagement and enablement.
"They bring to me the subject matter expertise, but I have the luxury and the benefit of being able to see it from a different lens, different perspective," she says.
"If I think back to how I ended up in HR, I don't know that I would have told you that's where I was going to be. But now I know that this is exactly where I was supposed to be. And what really worked well for me is someone was willing to take a risk on me, who saw my background and saw my thinking and was willing to start my career on talent strategy."