'It may seem cliché, but in times of a crisis like this, you really cannot communicate and engage with employees enough'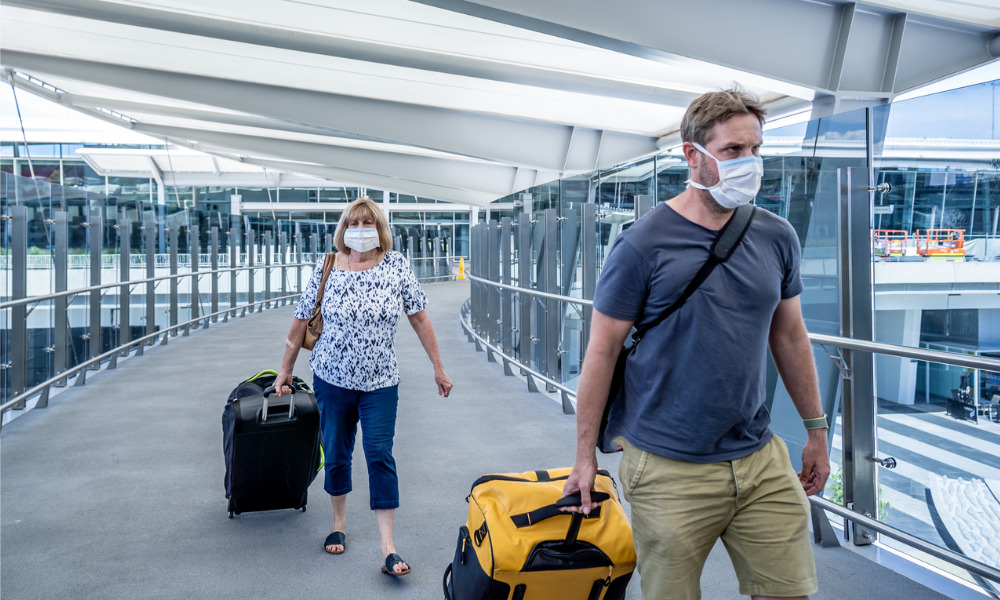 by SCNetwork members
On March 17, people leaders at most Canadian businesses were hit by the reality of the threat COVID-19 posed to their organizations. By the end of that week, a government- mandated lockdown of non-essential businesses made HR leaders switch to emergency protocols immediately, as mass layoffs and work from home became the orders of the day.
At SCNetwork, several CHRO members were largely unprepared for the meteoric nature of a pandemic that would strike their way of life and work in unparalleled and irrevocable ways. And yet, they demonstrated empathy, resilience, foresight and dedication in the ways they rose to the challenge.
"The responsibility of keeping businesses open by implementing sustainable work-from-home strategies fell squarely upon HR's shoulders. They had to create safe working practices for everyone across the organizational spectrum – from the most senior to frontline workers who weren't in a position to work from home. The playing field had suddenly been levelled," says Mark Edgar, SCNetwork's programming chair, in his recent blog "COVID-19 presents HR with real-life business continuity exercise like no other." CHROs "had to get creative in assigning and redeploying talent to the most important teams. Inevitably, many HR leaders had to navigate significant employee layoffs."
In part one of a two-part series, five HR leaders – Karin Adams, Cindy Bush, Kelly Davis, Mark Edgar and Lara Root – talk about how they are leading their companies during such volatile times and how the pandemic has impacted them.
Karin Adams, senior vice president and group head of human resources (interim) and vice-president of total rewards at TMX Group
"I do not think it is a revolutionary insight, but if I can distill one learning it is around the power of communication. It may seem a bit cliché, but in times of a crisis like this, you really cannot communicate and engage with employees enough. Particularly when a majority of your workforce is remote, and you must rely on virtual mediums to communicate. At TMX, we have taken the approach of more is more, not less is more. We have been tracking and documenting our communications, and during the first four weeks of the COVID crisis, we shared over 53 unique communications to staff by way of emails, intranet posts, Q&A webcasts and videos from our leaders. We received great feedback from our staff that they not only felt well-informed about COVID-19 and staying safe, but also about what TMX is doing to ensure employees' safety, health, and wellbeing. More than anything, it just continued to foster a sense of connectedness with our staff, which is critically important in a time where most are operating virtually.
"For example, we started a weekly call with all people managers to not only deliver key messages, but also listen and take feedback - it's more a conversation. Seventy-five per cent of that conversation is a Q&A where we get to hear from our people managers on what they're observing and what else we can do to support staff. We are also doing pulse surveys across all employees to get their feedback on what resources they need to work productively from home. Since week one of the crisis, we have engaged our staff with a 'Live Well Week' series, focusing on a different aspect of wellbeing each week. We started with the theme of 'Keep Moving Together,' where we launched a physical fitness challenge to our staff with wellness credit rewards and shared additional resources about physical well-being during COVID-19.

"In this environment, it's easy to feel isolated and it has been a big priority for us to ensure that everyone feels a sense of connectedness to TMX and that we're caring, we're listening, and we're responding."
Cindy Bush, CHRO at Cineplex
"Before COVID-19, we had embarked on a year-and-a-half-long culture journey to create an integrated company, looking at our strategy and structure, as well as our people practices. We looked at compensation, we looked at recognition, we looked at management and leadership, and we created communications. Through our culture work, we created four core shifts we wanted to make as a company — one, that we're going to be focused and clear about our priorities; two, we would invest in and respect our people; three, we would operate with trust and transparency; and four that we would operate as One Cineplex. My biggest learning is that who we decided to be, our culture, became more amplified in the crisis.
"When COVID-19 hit, we had to shut all theatres and restaurants down within a 24-hour period. Everything was in disarray. But we believed in our four principles that we'd been practising for over a year. For our field, there was not much we could do besides be transparent with temporary layoffs, and we topped up payments to people who would not qualify for employment insurance – investing in our employees. For our full-time, salaried employees, we looked across business lines and decided to give consistent pay reductions where everybody was getting the same and fair treatment. Rather than lay off some and keep some, and see which people were going to be busy and who were not, we embraced our One Cineplex principle and amplified that even more. Through the crisis, we demonstrated that our culture has guided our decisions.

"What I was most pleased about is that had we not done that culture work, I don't know where we would've been as an organization today. We would've been arguing side to side and going in different directions because that's what we were doing before. But instead we're able to intentionally, almost unconsciously, but consciously, behave in a way that's congruent to what we said our culture was going to be, as One Cineplex. COVID-19 allowed us to test our fledgling culture, and I would say we passed the test."
Kelly Davis, chief people officer at Sunwing Travel Group
"One of my greatest learnings has been to always look for the light, even during times of darkness and chaos. There are always ways to help and to give back and it's during the tough times that people remember that the most. The week of March 16 was when things started get crazy for our industry. March break had just kicked off and we had to switch to a "come home, get back to Canada quickly" message for our customers. We got creative about getting our customers out of their destinations and back home. If we had any available seats left on our planes, we gave them to non-Sunwing customers free of charge. We were flying the planes anyway, but during this time, it got a lot of Canadians home to safety. The media seems to focus on the negative news, the inevitable layoffs and closures of businesses – so if you have a story with even a glimpse of positivity, people need that and it's important to remember.
"It's great that many organizations are putting together senior HR leader calls and support networks during these times. Another learning I have had though is to accept that the people conversations in Canada may be tough but also different from other locations where global companies may operate. Most of our Sunwing employees are global, meaning that they are in places like Mexico and the Eastern Caribbean and Dominican Republic. The options for employees in some of those countries is sadly far less than what we have in Canada. I would love an opportunity to better connect with leaders who operate in those places as our solutions and ideas will have to be very different since in a lot of places there are no funding options like in Canada with the CERB, CEWS and even EI programs.
"Our biggest mantra through this as a People & Culture team has been to keep communication high. Even when the communication is not positive and we are sharing tough news, let's at least keep it high. That way, people trust us and they know we're going to share the best information we can with them. In our different destinations, it is hard to communicate to a lot of the employees on layoff, as IT connectivity is not always high. Every two weeks, we're doing a leader call where we offer lots of online learning webinars and key business updates from our various divisions. Since we have had to put so many employees on layoff, we keep reminding our leaders that the laid off employees are still our employees. We have created an enewsletter called Life Goes On to show our employees the various things we are doing to prepare for our comeback when this is behind us. It is important for our people to see that things are moving forward, slowly but surely."
Lara Root, chief people officer at CBI Health Group
"I am new to the health-care industry so I was still learning the business when COVID-19 struck us. Primarily about home health and rehab services, CBI is on the receiving end of this crisis. I think that a leader's first job has to be to make sure they have the right team of people underneath them, and then more broadly across the organization. A crisis like this tests the strength of a team. Prior to the lockdown, we had done quite a bit of work, both in the business and in HR, restructuring the business and restructuring HR. We spent time getting the right people into the right teams. Are the teams perfect? No, they aren't, but we're 80 per cent there. Having the right group of people on issues and on problems makes all the difference in the world.
"The challenge of working at home is that most of our thousands of employees are right on the front lines, in people's homes, dealing with the public, dealing with our clients and patients. So, everything we do is focused on helping them to be safe, helping them to be effective and making sure that they feel really well supported through all of this. Our corporate groups are working from home. Days can be long and sometimes when we feel frustrated and exhausted, I just think about our frontline employees and what they're going through. That puts everything into immediate perspective."
Mark Edgar, founder of Goat Rodeo Project
"Through this time, I have learned what is most important. Until now, people have often thought that the most important people are those who earn a lot of money. Ironically, COVID-19 has shown us that the people who are keeping our world running are the truck drivers, the shop associates, the nurses, and all other frontline workers. In organizations, there's now a mind shift in terms of understanding what's really important. Before this crisis, people were struggling with priorities at work. Organizations that had developed complicated project plans had to quickly change gears to implement remote working overnight and managed to complete their two-year plan deliverables in just two weeks. It's interesting to see the "Kondo'ing of HR" where leaders and teams have done away with all the fluff and the nice-to-haves. Many organizations are dialing in to what's truly important and thinking about how they serve the world."

As we begin the countdown to reopening businesses, in part two of this series, we ask our five HR leaders to share their calls to action for their peers and to provide us with insights into their people strategies for reintegration into the "new normal".