Unemployment rate falls in all major demographic groups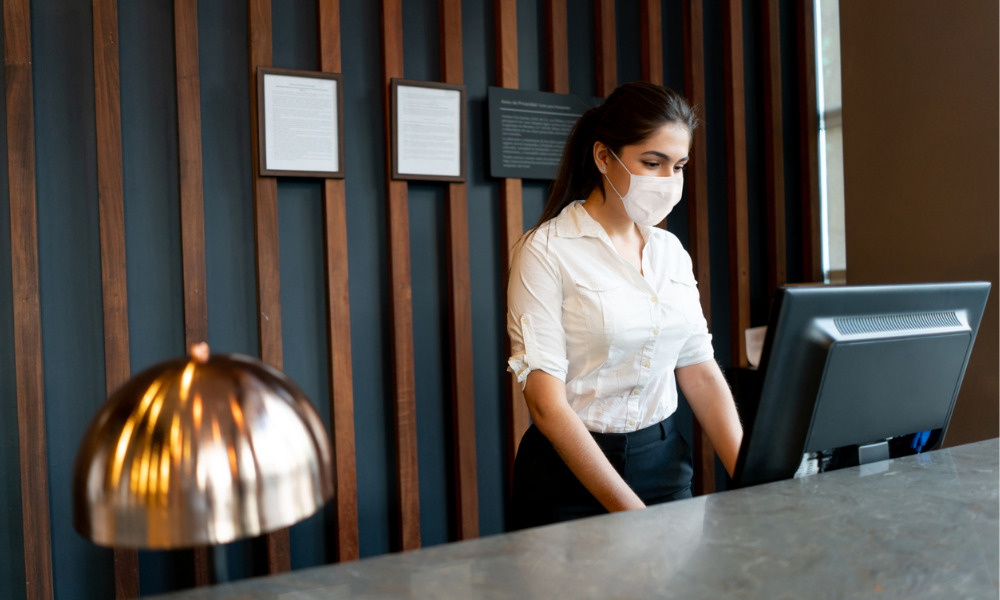 Employment climbed 337,000 (1.8 per cent) in February, easily offsetting losses seen in January.
The unemployment rate dropped one percentage point to 5.5 per cent, lower than in February 2020 (5.7 per cent) and similar to the record low (5.4 per cent) observed in May 2019.
The unemployment rate fell in all major demographic groups in February, according to Statistics Canada. For the first time since the start of the pandemic, men and women in all major age groups had an unemployment rate at, or below, what it was before the pandemic in February 2020.
Despite social disruptions, the labour market recovered more quickly than expected in February, says Jim Mitchell, president of recruiting firm LHH.
"As economies reopen and restrictions lifted across provinces and territories, we saw substantial growth in industries like accommodation and food services and information, culture and recreation. As we emerge from the pandemic, we've also seen a continued reduction in overall layoffs this month. Employers across the country are looking to retain talent, with employment rates returning to pre-COVID levels for the first time."
In mid-February, more new Canadian job postings were added to Indeed than at any point since the start of the pandemic, says Brendon Bernard, senior economist at the job board.
"While we can't expect job gains to continue at this pace, it's clear that ongoing hiring appetite is translating into jobs. The key question now is what this means for paychecks. Hourly wage growth firmed on a year-over-year basis, but still lags the pace of inflation. The key concern for the labour market has shifted, from the quantity of jobs, to how far people's salaries can go."
In December, employment climbed by 55,000, according to the federal government, following gains of 154,000 in November and 31,000 in October.
The employment growth was driven by strong gains in the private sector employees, which rebounded (347,000 or 2.8 per cent) after dropping in January (down 206,000 or 1.6 per cent). Public sector employment was little changed for a second consecutive month.
Both full-time (122,000 or 0.8 per cent) and part-time (215,000 or 6.2 per cent) work increased in February, says Ottawa. Gains in full-time work more than offset January losses (down 83,000 or 0.5 per cent), while part-time growth erased losses in December 2021 and January 2022 (down 182,000 or five per cent).
Accommodation and food services saw the most notable gains (114,000 or 12.6 per cent), along with the information, culture and recreation (73,000 or 9.9 per cent) industries.
After reaching a record high in January (10 per cent), the proportion of employees absent from work due to illness or disability fell to 6.2 per cent during the week of Feb. 13 to 19.
And when it comes to people working from home, 37.2 per cent worked most of their hours from home, down 5.8 percentage points from January, and more than half (53.8 per cent) worked all of their hours at locations other than home — up four percentage points from January, says Statistics Canada.
Recalling workers back after temporary layoffs is no easy task. So Canadian HR Reporter spoke with Jordan Epstein, an associate at Gowling in Toronto, to learn more about the legal considerations.
On a year-over-year basis, average hourly wages increased 3.1 per cent ($0.92).
Regionally, the largest proportional gains were in Newfoundland and Labrador (4.3 per cent or 9,500) and Prince Edward Island (4.1 per cent or 3,300).
Both Ontario (2.6 per cent or 194,000) and Quebec (1.9 per cent or 82,000) saw strong growth, followed by Saskatchewan (1.3 per cent or 7,400), Manitoba (one per cent or 6,400), British Columbia (0.8 per cent or 21,000) and Nova Scotia (0.8 per cent or 3,700). New Brunswick and Alberta saw little employment change.
In response to criticism, the Vancouver Police Department (VPD) recently removed one of its recruitment videos posted online.
The employment rate for the core working-age population (aged 25 to 54 years) climbed to 84.6 per cent in February, with that for core-aged men (88.2 per cent) rising to the highest level since November 1981.
Among core-aged women, whose employment rate has been increasing over several decades, the employment rate reached a new record high of 81 per cent, says Ottawa.
The number of long-term unemployed fell by 51,000 (19.4 per cent) in February, the fourth consecutive monthly decrease.