Measures meant to give people a chance 'to study, to work, to rebuild their lives'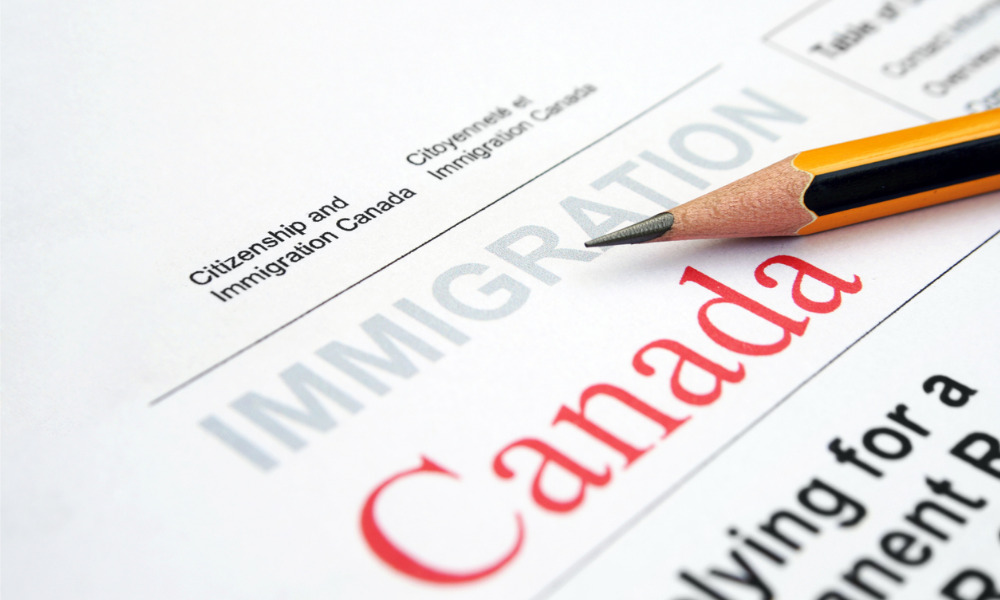 As the crisis in Ukraine continues, Ottawa is opening a new immigration stream for Ukrainians who want to come to Canada either on a temporary or permanent basis.
"While they defend themselves against Putin's costly war of aggression, we will provide safe haven to those who fled to protect themselves and their families," says Sean Fraser, minister of immigration, refugees and citizenship.
This follows a call from Premier Doug Ford for the federal government to let people seeking refuge from Ukraine to come to Ontario.
Ottawa is creating a Canada-Ukraine Authorization for Emergency Travel for those who want to come to the country temporarily, which eliminates many of the normal visa requirements.
Open to all Ukrainians, this is the fastest, safest and most efficient way for these refugees to come to Canada, according to the federal government. They can also extend their stay by at least two years, pending background check and security screening.
All Ukrainians who come to Canada as part of these measures will be eligible to apply for open work permits. The government is hoping to have the extended pathway open for applications in two weeks.
This will give them a chance "to study, to work, to rebuild their lives to a certain extent, either while they wait to return home to Ukraine or to start a new life in Canada," says Prime Minister Justin Trudeau.
Many employers are struggling to fill current job openings, and companies such Walmart, Amazon, IBM, PwC, Microsoft, Lowe's Canada and HCL Technologies have previously announced hiring plans.
Reunification sponsorship, other measures
The Immigration, Refugees and Citizenship Canada (IRCC) will also implement a special family reunification sponsorship pathway for permanent residence, to help immediate and extended family members of Canadian citizens and permanent residents who want to start a new life in Canada. The government will work with the Ukrainian Canadian Congress to develop details of this program in the coming weeks.
Previously, the government announced that the IRCC will issue open work permits to Ukrainian visitors, workers and students who are currently in Canada and cannot safely go home. Since Jan. 1, 2022, over 6,100 Ukrainians have arrived in Canada.
IRCC has also issued a class-based national interest exemption to allow unvaccinated and partially vaccinated Ukrainian nationals who hold a temporary resident visa or permit to enter Canada. This also applies to people who are vaccinated with vaccines not currently recognized by Canada. They will be subject to all other public health requirements.
Banking on experience
In dealing with the refugees from Ukraine, the federal government is banking on its experience with previous refugee crises, according to Trudeau.
"The response that we put forward today was built on our experience with the refugee crisis in Syria, when, in 2015, we accelerated processes for people to come to Canada quickly. We created new processes that we are drawing on in this particular situation," he says. "But we also know that situations are very different from one conflict or one challenge to another."
During the Syrian conflict, Canada was dealing with displaced persons' camps in Jordan, Lebanon and Turkey who had been established there for many years, says Trudeau.
The current situation is more similar to what happened in Afghanistan where the challenge was actually getting the people out of the country to safer countries "so we could process them and get them to come to Canada," he says. To date, Canada has accepted 8,000 refugees from Afghanistan, and is on track to get to over 40,000 coming into the country in the coming years, says the prime minister.
Now, the federal government wants to get Ukrainians out of Ukraine and into safer countries like Poland, Romania, Moldova – to where they are currently fleeing – so that it can work with them "in the relative stability of a peaceful neighbouring country" and have them go through the process as quickly as possible and bring them to Canada, he says.
"Every situation is different. But [in] every new situation, we're guided by the same values, the same principles, but adjust to what the needs are on the ground."